A recreational facility unlike anything in New Mexico. One of a kind offering trampolines, laser tag, ninja course, climbing walls, virtual reality simulators, sports simulator, stunt air bag and battle beam. Enjoy some refreshment at the snack bar! We also offer a climate controlled facility and free wi-fi.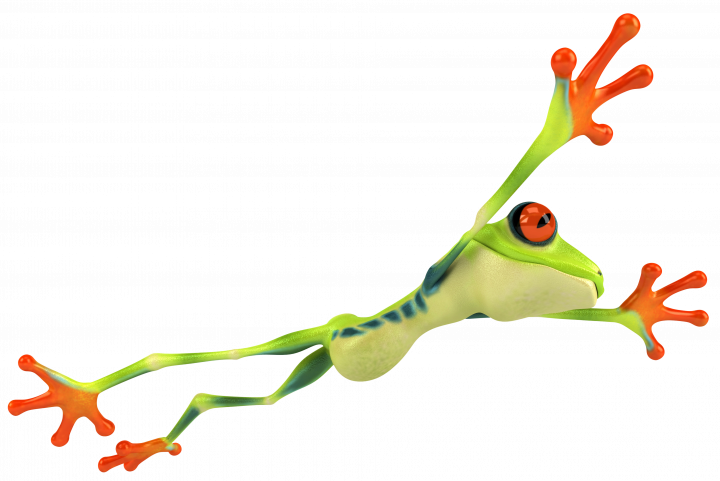 Trampoline Court
Plenty of room and ways to play. Raised platforms, vertical tall trampolines, ledges and open space.
Dodgeball Court
Ultimate dodgeball with platforms at the ends and real games. No one under 46″ allowed inside.
Dunk Court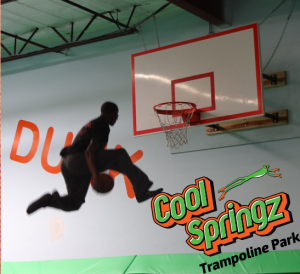 Twice as nice as before with 2 dunk hoops
Airbag Jump
So many ways to play! Jump from above the bag or swing into it. Use a trampoline to bounce into it or simply jump from the edge.
Battle Beam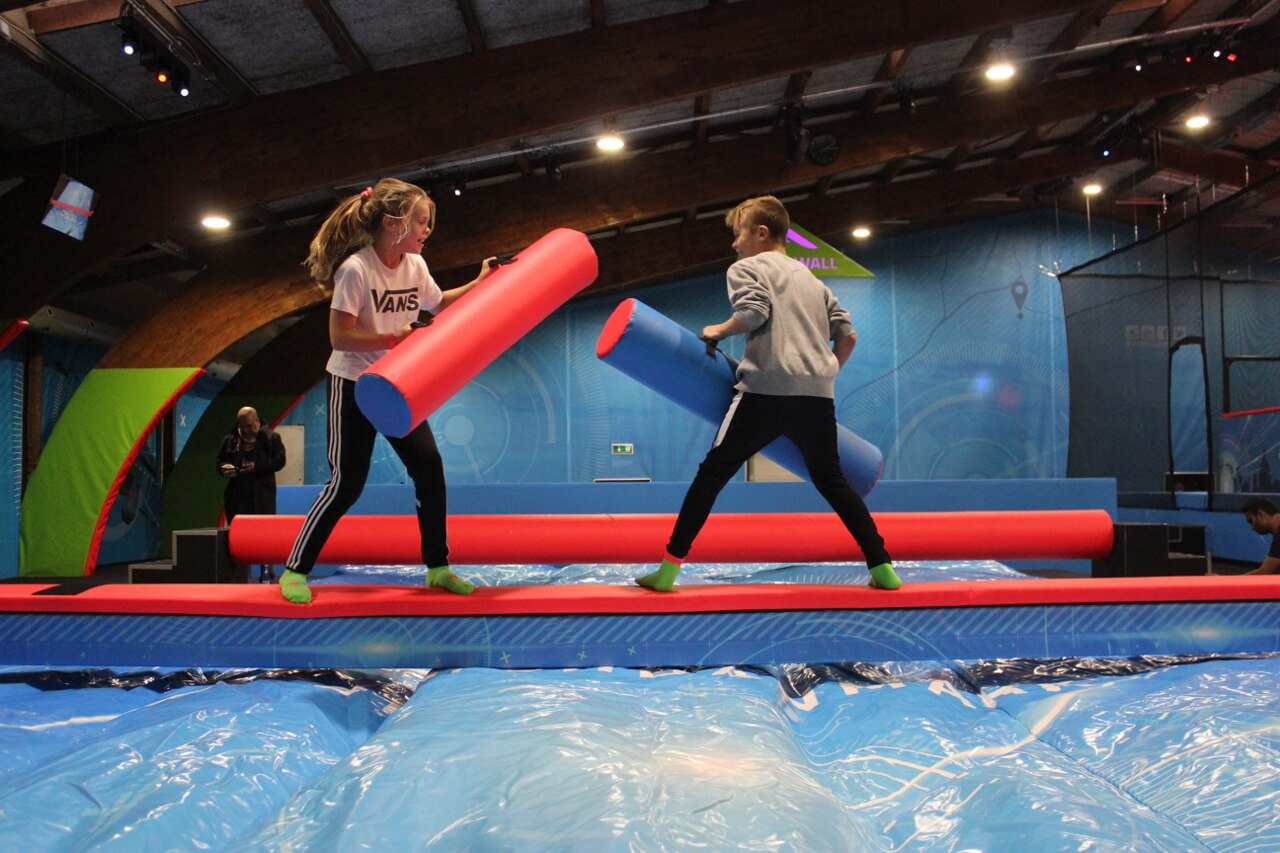 Use your battle bar to protect yourself and try to push your opponent off the beam. An airbag means even when you lose it's fun!
Snack Bar
Great food options at great prices. Enjoy your treats either in the lobby and watch sports or head down to the ninja bar so you can watch people conquer the park!
Laser Tag
Escape from Tatewari – Say no to black light plywood. An experience where you can shoot at each other but there are also plenty of surprises in the jungle that can attack you as well. Tatewari wants to destroy you. Can you escape?
Unlike anything available in Albuquerque!
Low Bridges/Bars
Start off easy with low hanging bridge to cross then try walking over the low bars
Rope to Cargo Net
\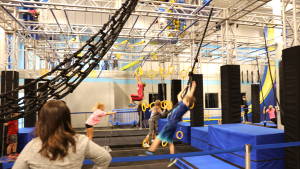 Swing on a rope to the cargo net and then climb down the net on the under side
Sea of Poles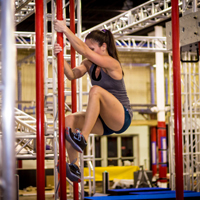 Cross the sea of poles using the help of the orange supports or really show off using only the poles themselves
Spider Jump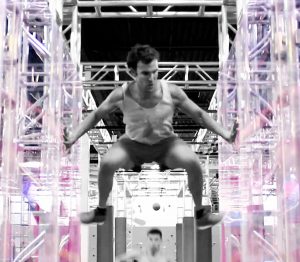 Jump into the spider corridor and test your strength to move forward once you get there
Warp Walls

Finish up with your choice of 2 warp walls! Once you reach the top hit the buzzer and claim the recognition of your fans!
Zip Line
Next zip over holding onto the zip bag
Swiss Cheese Doors/Hanging Rings
Cross the swiss cheese doors and then transition to the swinging rings
Traverse Boxes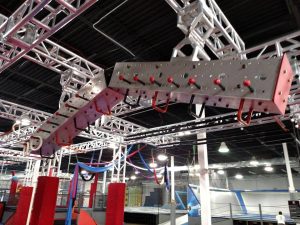 Choose you path through the traverse boxes from the easy monkey bars in green to the moderate fixed holds or try the spinning knobs in red
Horizontal Plank
All your strength will be required to defeat the horizontal plank
So challenging you need to self belay
Salmon Ladder
So you can do a salmon ladder. Can you do it over 20′ high?
Invisible Ladder
Pull the rings to climb the ladder but you have 20′ to climb.
Walk the Plank
Vertically climb the plank using only your hands to stabilize you
Rope Climb
Just like gym class! How fast can you climb to 20′ high?
More choices. more choices!
Beanstalk Climb
Become Jack and climb the beanstalk! 20′ tall
Face 2 Face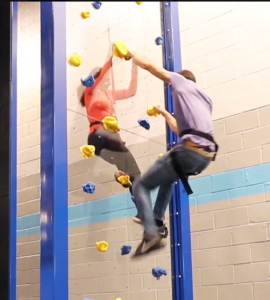 Alone or with a friend, Face 2 Face means you claim against someone and you can see how far ahead (or behind) you are from your opponent
Traverse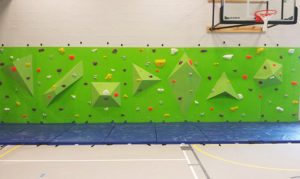 Over instead of up! The traverse wall has a timer to test your skill. Watch out for the handholds, some of them spin
Disappearing Stairs
Disappearing stairs seems easy but there are no good holds and the steps get thinner as you go higher
Outward Climb
A standard climbing wall wasn't enough so we set it at a 20° to make it a challenge
Virtual Reality Simulator
Oculus makes the unreal real. Choose a passive or an interactive game and experience a very different reality
Coaster
 Dino Park
Amazing and adventurous journey. You will enter a world full of danger, in which there live unusual ancient reptiles, giant dinosaurs, and bloodthirsty monsters-predators.
Roller Speed
Speed, fresh wind, ups and downs – freefall guaranteed! WOW! Breathtaking! Abrupt bends, extreme descent from a great height!
Scream Coaster
Roller coasters became true symbol of any attractions and theme parks in the world. Scream coaster will take you into the most twisted coasters on the planet!
The Box
It's a mad fun! Feel the geometrical dance and huge speed on the extreme attraction by trying the new type of coasters. It's hard to believe – you find yourself in a parallel and unreal world.
Fortress Coaster
Do you want to visit a medieval castle? You will make the most incredible trip in your life in a truly medieval castle! You'll be soaring up and falling down, cornering and spinning along the way.
Ground
 Barcelona Moto
One of the most intense and professional motorcycle races, created in the virtual world of rides. Speed, adrenaline, crazy race where you are in control.
Sand Wars
Race your hovercraft and shoot your opponents! Victor will be yours!
 X River
It's rafting time! Mountain rivers and waterfalls are a guaranteed adrenaline dose for the real extreme lovers!
 Quad Zone
Race your ATV off-road with bridges, jumps and obstacles that suddenly arise on the way! This is a real extreme and an adventure!
 Buggy Race
Racing in the desert. The road is full of danger and steep turns! You need to feel the grip on the road and control the speed!
 Motoroad Challenge
This time we are sending you to a motor racing track in picturesque mountains! Bump your competitors and watch out for them to bump you.
 Dino Rush
Mammals survived the dinosaurs. Ever wondered what scurrying around on the ground trying not to get eaten would be like?
Desert Rally Race
Mud racing in a truck. You are in control and can crash and explode. Watch your turns!
Velo Zone
High-speed BMX racing in the mountains on rough terrain at an incredible speed with jumps, stones, logs and bushes.
BMX Canyon
BMX Canyon – is a speed race in the Grand canyon. Thin paths, wild jumps and crazy speed.
Overpass Madness
Apocalypse racing in future buggy. You can create a lot of speed and jump from elevations into the road below!
Thrill
 Crazy Pipe
You fall into the secret dimension in space! This is a real portal, which you need to go at a crazy speed! On this difficult path, unexpected turns and unpredictable obstacles await you! No time to think! Just keep going!
Grave Man
Do you want to experience real fear? Collect your coins and defeat the monsters. Watch your back.
Big Bungee
Escape the limits of bungee jumping and ride the wind. Heights and falls that you could not survive in the real world.
 City Hammer
It's just a swing. It's a 100′ off the ground and you'll wonder what you were thinking assuming this was an easy game to try.
Flight
 Dino Fly
In Virtual-Reality everything is possible! Visit the world of dinosaurs on the back of a pterodactyl.
Freedom Fly
Feel the freedom! Take only one step into the abyss! Base jumping in a squirrel suit. Except you can rise as well as fall
 Hover Man
Squirrel suit jumping but not as many banks and turns. Just enjoy the ride.
Unreal Fly in Mountains
Mountains, rivers, fields, and forests – all this you will see from a great height on your hang glider.
Air Storm
Amazing adventure where you control the plane and the guns. Higher degree of difficulty game.
Ski
 Downhill
Stay in control and watch for other skiers! Jump off of rocks and stay away from trees!
 Unreal Jump
Ski jumping! Can you clear the canyon or will you end up smashed into the wall?
Unreal SnowSlope
Just you and the slope. It's all about the path and your speed.
Unique in New Mexico and most of the western US . The wall is your canvas, what do you want to play?
Follow the Path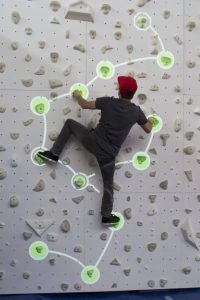 Indicators show where you should grab and climb to reach the goal. Can you do it faster than anyone else?
Climb Ball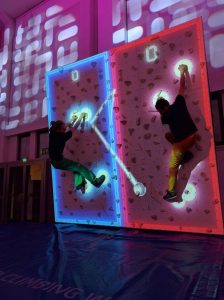 You gotta be fast to stay alive. You are the paddle keeping the ball in play.
Astromania
Save the world from meteors! Kick, punch and swat the asteroid from destroying the planet!
Whack A Bat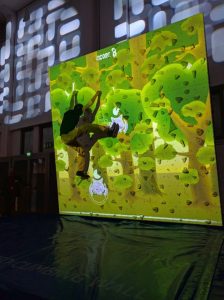 Squish the bat and climb to where it reappears. How many can you get in a single game?
Sparks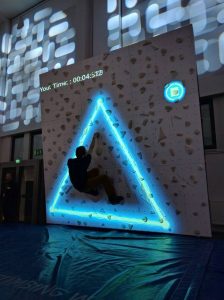 Climb through a maze without touching the walls. There's a static version but also a maze in motion.
Real equipment, real skills. Simulated outcome. Single and multi player games available.
Golf
Play Pebble Beach or the famed St. Andrews courses. Several formats available. Great team building event.
Baseball
You can both pitch and bat in this simulator. Have a Home Run Derby with friends!
Hockey
You and the goalie. Put one in the net. You and a friend can trade slapping shots and guarding the net.
Dodgeball
Beat up zombies and save yourself from death.
FootGolf
Clubs make golf hard. Play it with a soccer ball instead!
Soccer
Can you score? Penalty kick against a friend acting as goalie or play against the computer
Football
Be a quarterback throwing perfect passes downfield or kick field goals!
Shooting
Shoot skeet or trap. Shoot up a saloon. Shoot up zombies. Shoot at targets or just hunt. With many options and play again and again
Lacrosse
Throw on goal and work on your speed and spin.
Little jumpers only! Trampolines, ninja course, rock climbing wall, foam pit and play structure with slide.
Foam Pit
Foam blocks for building and jumping.
Play Structure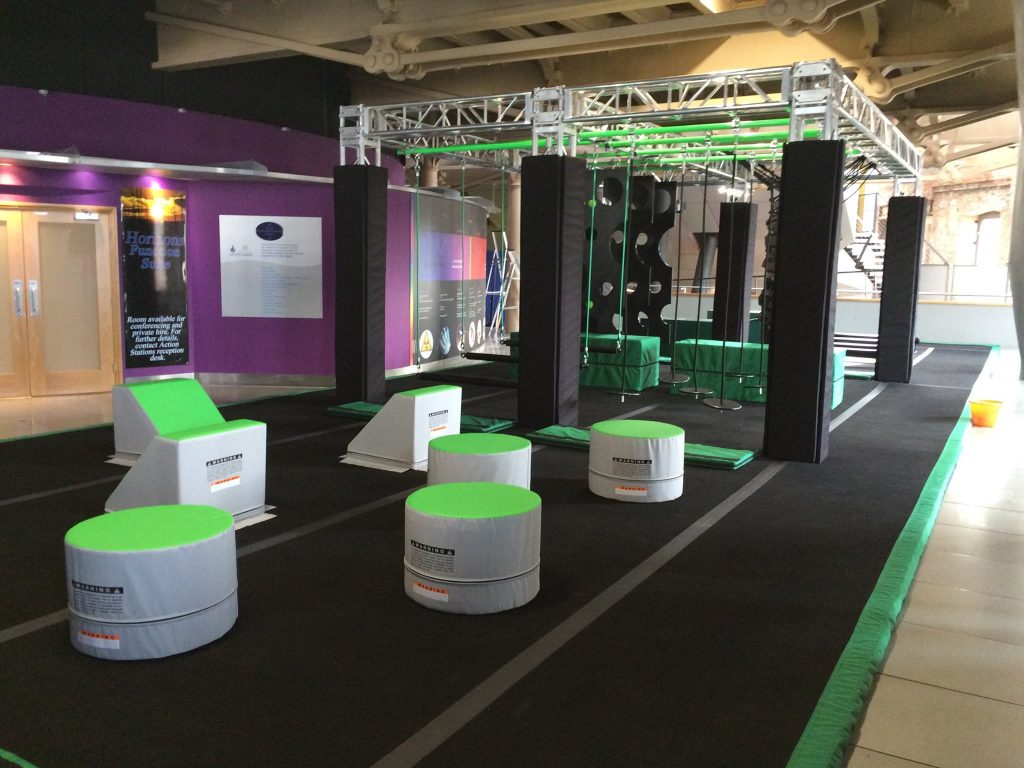 A play structure with swings, bags and a slide
Trampolines
Trampolines to jump on and enjoy
Ninja Course
Foam ninja course for being your best warrior!